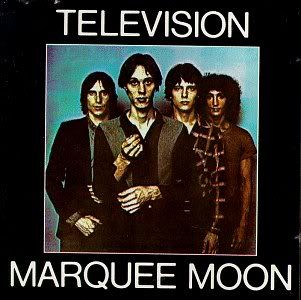 Artist
: Television
Album
:
Marquee Moon
Label
: Elektra
Year
: 1977
This one really hurts. I go through weird phases with music where I am either spending a week listening to old favorites to see how I currently feel about them and then other weeks I just try to absorb nothing but new music. As I drove up to Canada to visit my friend Tanya this past weekend, I made it a point to listen to some old albums I haven't listened to in years...all of which are certainly far away from my original opinion of them. With that in mind, some of the reviews around this week will have that as a focus. I played
Marquee Moon
as I drove up, for probably the first time all year...an album which used to be one of my favorites ever...but I honestly struggle now to see what I loved about it.
I really liken it to an ex-girlfriend. The kind that you know you had a genuine love for, but just feel differently about now. But I'll return to that in a moment.
See nearly every song is excellent. Blistering hot guitar solos from
Tom Verlaine
illuminate opener "See No Evil" and the 10-minute epic title track. The guitar tone is also superb on tracks like "Venus" and the harrowing ballad "Guiding Light."
The songs are played excellently, with sparse drumming that works just right and accents at just the right time. The bass lines are also excellent and add their own melody. Richard Lloyd's guitar playing is also magnificent, and the dual guitar work between him and Verlaine is excellent.
Furthermore, there is a wide variety of style here. "Elevation" is dark and menacing, whereas "Guiding Light" (my favorite song on the album) is a ballad. The band has a specific sound but they still create a remarkably diverse record.
So why don't I give a shit about it anymore? I used to listen to it and get that FEELING. That feeling when a perfect part of a song just hits you. During the "Darling, darling...do we part like the seas?" part of "Guiding Light" I always had the shiver in my chest which excited me. But not anymore. I just don't love it anymore.
And you know how when you are done with a relationship...you realize there were things that mattered more than you realized? You used to be more forgiving, right? "Prove It" is that sign that maybe the album wasn't as exceptional as I once imagined. That song is really just not that interesting, and kind of boring, and certainly the weakest lyrically.
Maybe I can re-visit
Marquee Moon
one day and love it again. I have with other albums (gone in and out of favor), but right now...I just don't know what I loved about it.